Digital Marketing: the impact of communication on the purchase decision
Web Design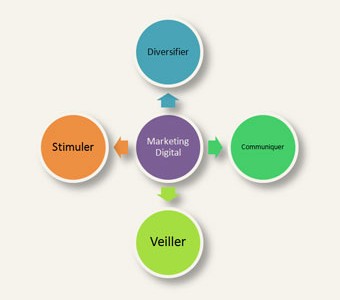 The establishment of a digital marketing plan is crucial when marketing a product: it is its successful implementation will determine the consumer's purchasing decision. For the most part, the customer's buying decision is already made.
Communication before the product launch
But what is this miracle? Well this is the result of good communication and a link created with the consumer prior to the launch of the product, but also maintained after the sale. Internet users do their research on a given product before moving on his/her purchase: price comparison, reviews of other users, detailed characteristics of the product ... And this phenomenon is now spreading to mobile users. Companies that rely on the creation of mini websites before releasing their product seized the vital importance of internet communications with the public (and sometimes the buzz created) to ensure a satisfactory rate of sales.
Buy online and purchase in a physical point of sale
Online purchases are common, but it should not be overlooked that consumers still prefer to visit a physical point of sale. If you have your website e-commerce in addition to your point of sale, and want to be one of your virtual customers who buy only rarely on the Internet, why not think of their benefits that are exclusively reserved? Such as discounts when buying online, promotional offers, or fast delivery and free?
Finally remember that the quality of your service will make your email reputation. To retain customers, nothing beats a presence in various media; tablets, mobile websites ... stimulation of the consumer now goes through all these channels and influence the purchase decision of the customer.