Organic SEO
The listing of a website can increase your visibility on search engines. Remember that a website is only effective if it is visited! You could expand your market with SEO !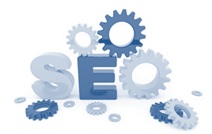 Some services related to listing on search engines:
Analysis of the architecture of your site and technology recommendations for a better ranking

Search keywords and develop a glossary

Optimizing existing pages or create new pages as needed

Help with the acquisition of bonds

Monitoring and continuous optimization

Our Advice + our solutions = Better performance!
Did you know that a site must be optimized in terms of programming, especially in the case of a self-managed site? Also, did you know that the texts that make up your site have a strong influence on the positioning of it on search engines?
Search engine optimization - the success of your business!
A successful business today is impossible without competent promotion of goods or services on the Internet. Firms and companies with professional sites are in the "Top" search engines (for example, in the first ten on Google) have much higher prospects of their business than those that do not have an own Internet resource, or resource that hidden away in the depths of the Internet so far that it is impossible to talk about its seriousness in promoting the products of the firm or its services.
Our company Vuna Marketing successfully operating on the market for providing services for the development, implementation and optimization of sites since 2003. We have all the necessary resources for this activity. Our specialists are able to create web projects of any complexity, as evidenced by our portfolio and testimonials of our clients.
We will be glad to offer you a full range of services for the initial site optimization and further improve your website promotion.
Contextual advertising
There are two main types of online advertising - banner and contextual. Both species are fast and efficient.
What is contextual advertising? Contextual advertising is a form of targeted advertising for advertisements appearing on websites or other media and in search results for keywords and phrases in search engines such as Google and Yahoo. Thus, the visitor receives the phrase "office rent" on the first and will see the following pages advertising their company.
The price of this campaign in a retrieval system, calculated from the proposed budget and campaign goals.
Banner Advertising
This type of advertising is the placement of a banner advertising your products on sites similar in theme. Banners are usually in the form of a .gif, .jpg, or flash. Banners are used to advertise business and services on websites which when clicked go to a designated advertisers URL.
For more information on our SEO services contact us anytime - we are here to help!